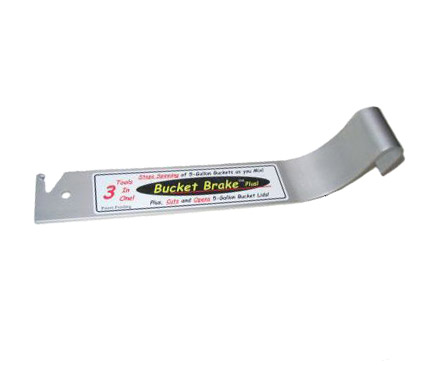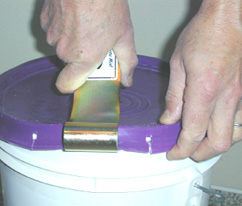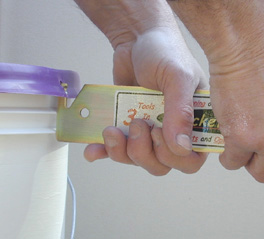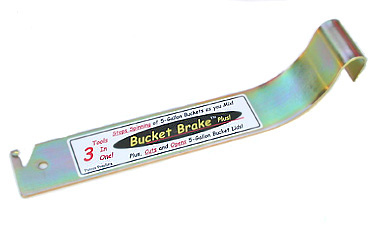 Join the thousands worldwide and purchase your own Bucket Brake Plus!

Let it work for you, too!

Bucket Brake easily stops 5-gallon buckets from spinning as you mix.

Bucket Brake holds the bucket upright for you when mixing powder mud.

Bucket Brake cuts 5-gallon lids smooth and easy.

Bucket Brake opens 5-gallon lids super fast.

"One Tool That Does The Whole Works!"

One thing's for sure...

You simply won't find a more efficient, durable, common sense 3 in 1 tool for five-gallon buckets selling at any price.

And guess what...

Saves

Time, Effort & Money

Less Strain

Less Mess

Less Irritation

Fast

Strong

Safe

"Works Like A Champ"


Best of all...

You can try it Totally Risk-Free for 90 days!

Buy Bucket Brake Plus today and put it to work for 90 days, and if for any reason, whatsoever, you are not 100% satisfied I will fully refund your money absolutely no questions asked!

And there are... 


That's more than just a no-risk guarantee, it's my personal promise.

Signed: Phil Roebuck

President/Bucket Brake LLC

So don't put it off any longer...

Only $14.95

FREE

PRIORITY MAIL SHIPPING.

Before you know it, you'll be enjoying the benefits of Bucket Brake Plus! "At Last,"

A Solution For Those

'Hard To Control'

Spinning Buckets!

Read What The Pros Are Saying:

"I purchased two of the Bucket Brakes from you in March and I think I would be lost without it.  I had alot of old scars on my legs, so I'm buying spares in case I lose mine.  Thanks for everything and my new scarless legs."

MARTY SIKRAJI    Genoa City, WI

Email: sikraji@genevaonline.com

"I use Bucket Brake Plus every time I mix.  If I forget and leave it in the truck, I stop and go get it.  I won't mix without it!  Bucket Brake Plus is the ticket!"

CHRIS ALLEN  Virginia Beach, VA

"Attention Tapers!  After mixing thousands of buckets of drywall compound since 1978 -

THIS IS THE TOOL!!!"

LANCE LABONTE  Rosendale, NY

Email: ifitcudb@yahoo.com

Copyright 2004 Bucket Brake LLC

The Ultimate Tool For 5-Gallon Buckets

"I use Bucket Brake Plus every single day I'm at work.  It's one of those permanent fixtures in my tool bag.  Mixing quick dry mud is so easy now.  It's awesome!"

BOB SNYDER  Chesapeake, VA

Drywall Contractor

Mixing Has Never Been Easier

NEW! Now Made From

Strong Aircraft Aluminum

Bucket Brake Plus

An incredible tool that makes mixing easy and saves you valuable time and energy.

3 - Tools in One

Stops Spinning of 5-Gallon Buckets

as you Mix

Plus, Cuts & Opens 5-Gallon Lids

"If you work with 5-gallon buckets, do yourself a favor and purchase this tool.  Once you use it, you'll wonder how you ever mixed without it!"

       One tool that does the whole works!

Strong & Tough - Invented by a drywall finisher for the industrial professional.

"I invented the Bucket Brake out of frustration.  I was fed up having to keep that bucket from spinning with my feet.  I mixed 8 - 10 buckets of drywall compound each day, and believe me, it got very irritating.  Bucket Brake solved that problem!  It actually makes mixing easy!"  Inventor/Phil Roebuck

Bucket Brake Plus is a fantastic tool for mixing drywall compound, quick set, thin set, plaster, stucco, quikrete, concrete, cement and more!

Bucket Brake Plus, made from strong aircraft aluminum is a durable and extremely efficient 3 in 1 tool.  It is capable of handling the thickest mud on the market.  "Sure to give you years of satisfying service!"

Simply, hook on the handle and stand on the brake.

No need to hold the bucket with your legs, or stand on top it. Just stand back in a relaxed position and mix away. The bucket stays firmly in place. 

You can't beat it!

ANOTHER SUPER CONVENIENCE...when mixing powder, you no longer have to remove the drill to add more material.  Simply, by standing on the brake you can let go of the drill.  The bucket will not turn over.  Your hands are free to add material until you get the preferred consistency.

Simply, slide sharpened edge up into slot underneath lid and swing the opposite end of Bucket Brake down.

Bucket Brake Plus cuts lids smooth and easy without the risk of injury to you or your workers.

No need to waste valuable time hunting for another tool to cut the tabs!

Convenience means money!

Bucket Brake Plus removes lids 30% - 50% faster than by hand and pain-free!

Simply, pop up the tab with Bucket Brake and follow behind with your free hand lifting up tab.

The speed and ease is unbelievable!

Bucket Brake Plus is a super strong tool that will amaze you the first time you use it!

It pays for itself very quickly in the time you save, and especially the hassle it eliminates.

"Once you try it,

you'll never want to mix without it again!"